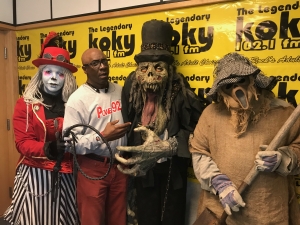 Agatha Von Pettigrave, The Grave Keeper, and Esaw from EMOBA's Haunted Cathedral |  EMOBA hosts the 24th annual Haunted Cathedral, October 13th-31st at EMOBA, 1208 Louisiana Street in Little Rock.  A chilling combination of monsters, ghouls, and zombies may send shivers down your spine. The Haunted Cathedral is one of Arkansas's largest and scariest attractions and is the first and longest running Halloween attraction operated by African Americans in Arkansas. Visitors will encounter ghastly scenes, gruesome characters, and grim animatronics. The experience will keep them captivated from start to finish. Hours are 7:30pm-9:45pm.  (Closed to the public:  October 22nd-23rd).  School "light on" day tours, VIP passes, and group rates are available.  The Haunted Cathedral is a major fundraiser for Ernie's Museum of Black Arkansans & Performing Arts Center more commonly known as EMOBA.  For ticket information and more, visit EMOBA on Facebook or call 501-661-9903.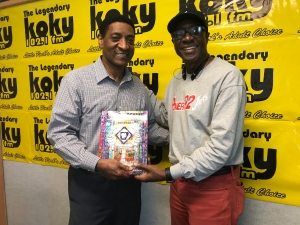 Charles Stewart, President of the Arkansas Black Hall of Fame | The 25th Anniversary of the Arkansas Black Hall of Fame is Saturday, October 28th at 7:30pm at the Robinson Center Performance Hall.  The one-night only variety show will honor 25 years with dance, music, comedy, and inspirational performances.  Luenell will emcee the event with performances and appearances by jazz saxophonist Pharaoh Sanders, music producer Morris Hayes, and poet Haki Madhubuti.  Governor Asa Hutchinson and Clarence James (C.J. Duvall Jr., a philanthropist and former 25-year corporate executive, are honorary co-chairs.  The organization's first coffee table book, "Seeds of Genius: 25 Years of the Arkansas Black Hall of Fame will be available for purchase at the celebration and online, as well as tickets at www.arblackhalloffame.org.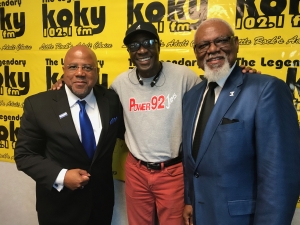 Jimmy Hammock, 33rd International President of Phi Beta Sigma and Curtis S. Woods | Phi Beta Sigma Fraternity, Inc. will celebrate 90 years in Arkansas, Friday, October 20th at 6:30pm at the Little Rock Marriott, 3 Statehouse Plaza in downtown Little Rock. Members of the community in the areas of bigger and better business, education, and social action will be honored.  Broadway Joe is among the honorees.  The fraternity was founded at Howard University in Washington, D.C. on January 9,1914 on the ideals of brotherhood, scholarship and service.  For tickets and more information, visit www.eventbrite.com.